The E-Team
Mission: enabling the next level
When you require not only power, but also efficiency, endurance and freedom. If you are looking for a team that delivers quality and strives with enthusiasm to always find the right solution at the right time. Then there can only be one team for this mission: The E-Team from Einhell! Equipped with Power X-Change cordless tools and gardening tools, they face all challenges in our new TV commercial, make every mission possible, are the concentrated Power X-Change excellence. Their client - none other than FC Bayern CEO, Oliver Kahn!
Who you gonna call? The E-Team!
The E-Team
The team that enables every mission
The favourite tools of the E-Team
Battery power for every mission
Cordless Rotary Hammer
HEROCCO 36/28
Two powerhouses united! When he needs to bring out the big guns for a mission, Mike reaches for the Herocco 36/28. The cordless rotary hammer combines high drilling performance with cordless freedom. The brushless motor, 3.2 joules of impact force and the combined 36 V power from two Power X-Change batteries mean that the rotary hammer does not shy away from even the hardest materials. Like Mike, however, the rotary hammer is also capable of sensitivity despite all its power: The finely adjustable speed electronics enable sensitive work. Further, the rotary hammer is also equipped with a universal SDS-plus tool chuck with semi-automatic function and a infinetly adjustable, robust drill depth stop made of solid metal.
Cordless Leaf Blower
GE-LB 36/210 Li E - Solo
Somehow it makes sense that Crazy D's favourite cordless tool has a turbo switch. With the resulting maximum blowing volume of 816m³/h, the brushless motor and the robust construction, the cordless leaf blower can even keep up with D's energy level and crazy ideas. The leaf blower removes leaves, small twigs and dirt quickly and effortlessly from property areas - right to the last corner. At the same time, the Power X-Change member is light, handy and lies comfortably and securely in the hand thanks to the balance handle with soft grip.
Cordless Impact Drill
TE-CD 18/50 Li-i BL (2x2.0Ah)
As powerful, efficient and quick-witted as she is, Skye also loves her cordless impact drill, which she doesn't put down even when she has time off. With screwdriving, drilling and impact drilling functions combined in one handy tool, the versatile cordless impact drill is an indispensable helper on any mission. Thanks to 50 Nm torque, brushless motor, the impact drill also shows its endurance during longer assignments - even with harder materials such as lightweight concrete, stone or brick. An ergonomic design with soft grip ensures comfortable handling.
Robot Lawn Mower FREELEXO
For the perfect (football) lawn
An absolute gamechanger, not only on the football lawn: the flexible robot lawn mower is easy and convenient to operate thanks to the LCD display in combination with app control, so you have more time for your own missions.
Cordless Lawn Trimmer
GE-CT 18/30 Li - Solo
The Einhell GE-CT 18/30 Li Solo cordless lawn trimmer ensures the perfect lawn. Whether edges, surfaces, corners or borders: Nothing is a problem for the cordless garden helper.
Cordless Grass- and Bush Shear
GE-CG 18/100 Li-Solo
With the powerful and comfortable Einhell GE-CG 18/100 Li-Solo cordless grass and bush shears, nothing stands in the way of trimming, shaping and thinning bushes and trees.
Cordless Lawn Mower
GE-CM 36/36 Li (2x4,0Ah)
The Einhell GE-CM 36/36 Li (2x4.0Ah) cordless lawn mower provides plenty of power for mowing with its powerful brushless motor and two powerful Power X-Change batteries.
Even more equipment
Cordless Angle Grinder AXXIO 18/125 Q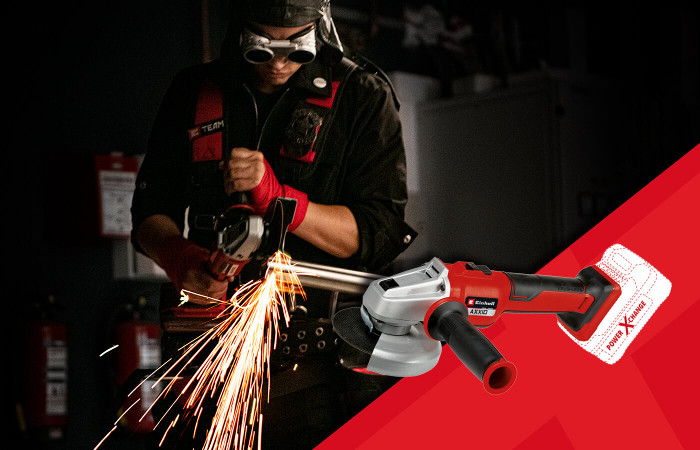 More power and endurance with brushless motor
Whether in the workshop, at home or in the garage, the Einhell Axxio 18/125 Q cordless angle grinder is indispensable for the work of the E-Team. The brushless motor of the cordless helper, allows more power and aprolonged operation - on every mission. The slimline design and ergonomic soft grip as well as an additional handle offer maximum comfort when working and the soft start in combination with the restart safeguard ensure increased user safety.
Cordless Chain Saw GE-LC 36/35 Li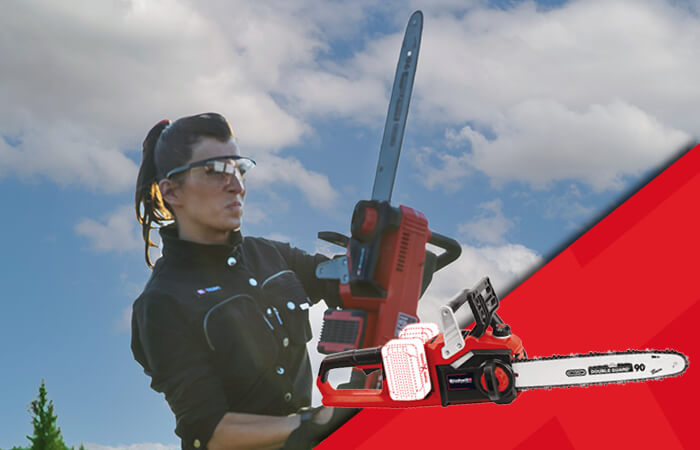 Maximum power meets maximum flexibility and handiness
Obstacles? Not with the GE-LC 36/35 Li cordless chain saw. Thanks to the high-quality bar, two powerful 18-volt Power X-Change batteries and brushless motor, the cordless chain saw combines maximum power with maximum flexibility and handiness. With a sword length of 350 millimetres and a cutting speed of 15 m/s, it can easily work through larger trunks. The kickback protection, the instant chain brake and the chain catch bolt provide additional safety.
Cordless Light TE-CL 18/2500 LiAC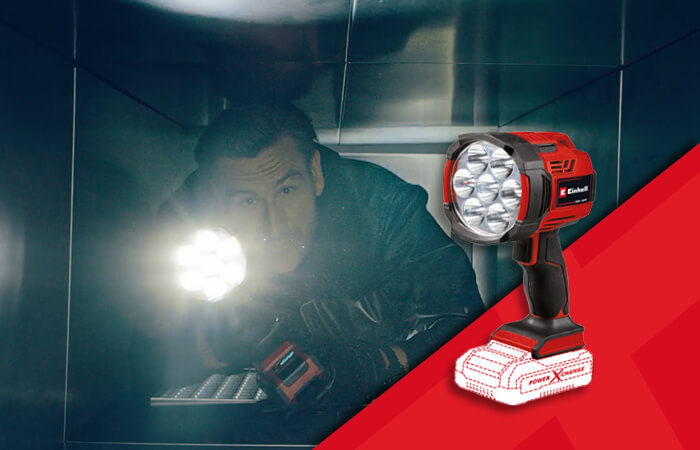 The perfect companion for night missions
With 2,500 lumens, the Einhell TE-CL 18/2500 LiAC - Solo cordless light brings plenty of light into the dark and is thus the perfect companion for the missions of the E-Team. The battery lamp is not only practical in poorly lit places such as cellars, construction sites, the attic or in dark corners of the workshop. The handy cordless lamp also offers a full view of what is happening in the event of a power outage or on other missions when a power-independent light source is indispensable.
You want even more battery power for your mission?
Discover our battery system and your tools for garden and workshop.